How to transfer contacts in only 2 simple steps ? here is the easiest way to transfer your contacts for Android to iPhone.
Transferring your contacts from an Android to an iPhone can be a real headache, and above all I advise against using the Move To iOs application because its real crap, it does not always work, is complicated and your iPhone needs to be in factory mode.
Apple is not very good at making tools that work on android, so I suggest using a Google solution to transfer your contacts.
1. Transfer contacts using Google
First of all, you need to synchronize your contacts with Google on your Android (You already have a google account if you have an android) this is usually done automatically by default but to be sure check that this option is activated.
1. Go to Settings -> Accounts
After that, add your Google account on your Iphone
2. (Settings> Passwords and Accounts (Settings> Mail, Contacts, Calendar on older devices).
From there, add your Gmail account and make sure the Contacts option is turned on.
Its done ! your contacts are now sync with your iPhone
2.Transfer contacts using Sim Card
If the previous solution did not work for you (if you forgot your Google password for example) you can use this method that is just as easy as the previous one.

The principle is simple, you export all your contacts to your Sim Card and then import them on your iPhone, to do so follow these steps
First, on your android go to your contacts, click on the menu button (three dots at the top right) then find the Import / Export option and tap on it.
The screenshot above shows the steps on a Samsung, your menu may look a little different but the basic steps are the same.

2. Tap on export and choose to export on Sim card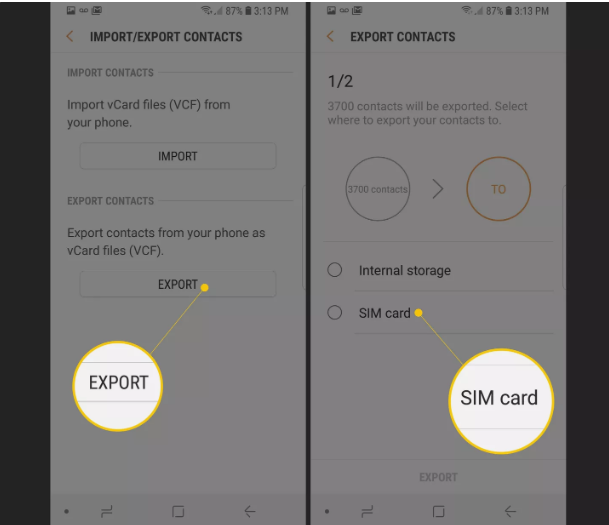 4. When the export is complete, move the Sim card to your iPhone.
5. Go to the Settings app on the iPhone
6. Go to Contacts (on some older iPhones its Mail, Contacts, Calendars)
7. Tap on  Import SIM Contacts
Wait until contacts transfert is over, after that your contacts will be available in the Contacts app of your iPhone !
See also 7 of the Best productivity apps