PDF files are excessively used for sharing and saving text-based documents easily. The reason behind their excessive use is fixed layout, data security, compatibility with a variety of devices, and versatility. However, you can't edit or modify the data saved in form of a PDF file easily because the PDF file format doesn't allow any kind of modification to the saved data.
While the PDF file format is perfect for sharing and saving documents, the issue with the modification of data featured in a PDF file can be really problematic. Especially, when you need to modify the official or academic content included in the PDF file. The most effective way of modifying the data in a PDF file is by converting the PDF to Word file.
Many people need to edit documents on the go using their smartphone devices like the ones that run on Android OS. This brings us to a question, "How to convert a PDF file to Word on Android?". Some people may see it as a tricky task but it is not that difficult. You just need to be aware of the right tool for this purpose.
We have put together some details to help you understand the method of converting PDF to Word on android easily. Additionally, we have also discussed why converting a PDF file to Word on your smartphone is beneficial for you. Further details are given below:
How PDF Files can be Converted into Word Files on Android?
When it comes to converting a PDF file to a Word document, many people think of using a desktop or laptop for this purpose. However, you don't need to have a desktop or laptop PC at your disposal to convert a PDF file into an editable document. You can do it on your Android smartphones as well.
Converting a PDF file to Word on Android is a quick and easy process. All you need is a PDF converter app and a Word document editor.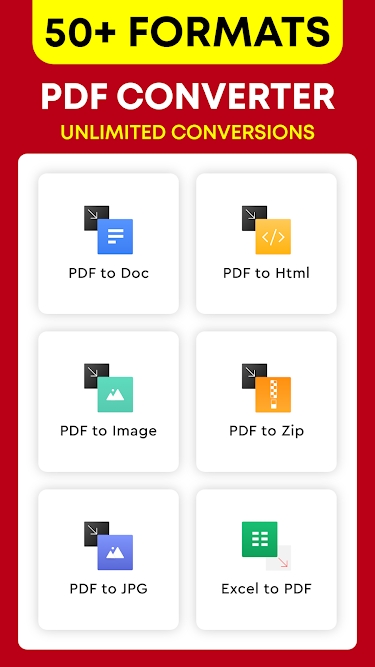 The process is quite simple and requires no hassle. All you need to do is look for a PDF to Word converter app on Google Play Store. While looking for such an app, just make sure you are not installing an app that asks you to sign up or pay a monthly subscription to work on PDF files using your Android smartphone. Choose a PDF file converter that allows you to convert Word to PDF and PDF to Word but also provides many other PDF-related solutions as well. These solutions may include options like putting up a watermark on a document in PDF format, splitting a PDF file, or locking it for the safety of the content.
Benefits of Converting PDF to Word on Android
There are plenty of benefits of converting a PDF file to Word on the go using a PDF file converter app on your smartphone. Read to know more about these benefits:
Edit Files on the Go
There will be numerous times when you need to make modifications to a document urgently. You may not carry your laptop all the time with you, so how are you going to manage it? Are you going to wait till you reach the place where you can get access to a laptop? Certainly not!
If smartphones can do other things that a computer is capable of, converting and modifying a PDF file should not be different. A PDF to Word converter app for Android smartphones will let you do that easily. Once you convert a PDF file, you can easily modify it using a Word processor tool installed on your phone.
No Issues with the Security of Data
You are out of the city, and you don't have access to your personal computer. You may think of using someone else's laptop or desktop to convert the PDF file to Word and modify the document. However, there is an issue, what if the document you have worked on is highly confidential and someone else gets access to it. This event can pose serious problems to your work.
The best way to avoid such a situation is to keep a reliable PDF file converter app on your Android smartphone. Just make sure the app ensures the security of your data. Having such an app on your Android smartphone will allow you to make sure that your data is secure and that you don't need someone else's device to do your work.
Final Thoughts
Converting a document in PDF to Word and Word to PDF on an Android smartphone without paying a single dime is not a tricky task anymore. You simply need to have the right tool at your disposal. A PDF file converter app installed on your Android smartphone can do the trick for you. The presence of such an app will not only make editing files on the go easy but keep your data secure as well. We hope the above-discussed information will be helpful for you in dealing with PDF files on your smartphone.