If there is one type of document absolutely essential in office automation, it is the PDF format. These files, which are displayed the same way on all computers, are among the most exchanged by e-mail, especially in an administrative or professional context. For this, one of the first software installed on a Windows computer is a PDF viewer. We help you in this article to make your choice among the available programs.
The great advantage of the PDF format is to keep the layout of a document, whatever the hardware and software configuration of the computer station. This file is therefore displayed in the same way on a Windows PC equipped with Foxit Reader, as on a Mac equipped with Adobe Acrobat Reader DC.
Since Windows 10, Microsoft provides native support for the PDF format through its Microsoft Edge browser, in which these files can be read. The most recent versions of competing browsers like Mozilla Firefox or Google Chrome also offer this functionality. However, it is often an additional tool intended mainly for consulting documents retrieved online.
To annotate files, export content or use other advanced functions, it is necessary to use a dedicated viewer. Acrobat Reader DC is Adobe's official tool for reading PDF files, some web pages recommend downloading it for optimal compatibility with these files. Other lighter alternatives and sometimes open source exist, we present them to you in the next paragraphs of this article.
1. Adobe Acrobat Reader DC – The PDF Reading Dinosaur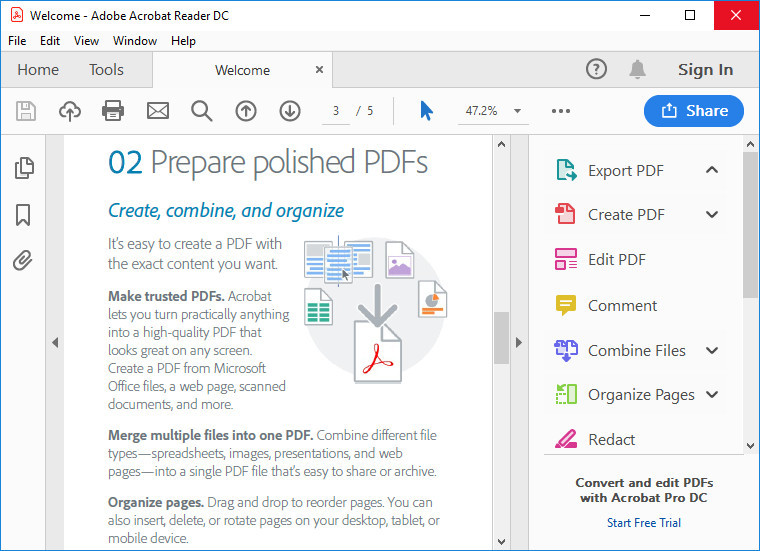 Adobe Acrobat Reader DC is Adobe's flagship software for reading and printing PDF files.
Distributed since 1993 under the names Adobe Acrobat Reader, then Adobe Reader, it has greatly contributed to the development of the PDF format against its competitors.
Initially, Adobe separated its different products from the Acrobat range (Reader, Elements, Standard, Professional). With updates and developments, Adobe Acrobat Reader DC became in 2015 a complete software for managing PDF files and many other formats, integrated into the Adobe Cloud.
Pros:
The historical benchmark for reading PDF files
A modern and neat interface
Optimal compatibility with PDF format and many office files (XML, RTF, BMP, GIF, TIFF, PNG, PSD, DWG, XPS, etc.)
The ability to unlock editing features directly in the software (for a fee)
Cons of Adobe Acrobat Reader DC:
The program is too heavy to run on older computers
The software includes many advertisements to unlock the paid features. It should be updated regularly to keep pace with security patches.
2. Foxit Reader – An efficient and free alternative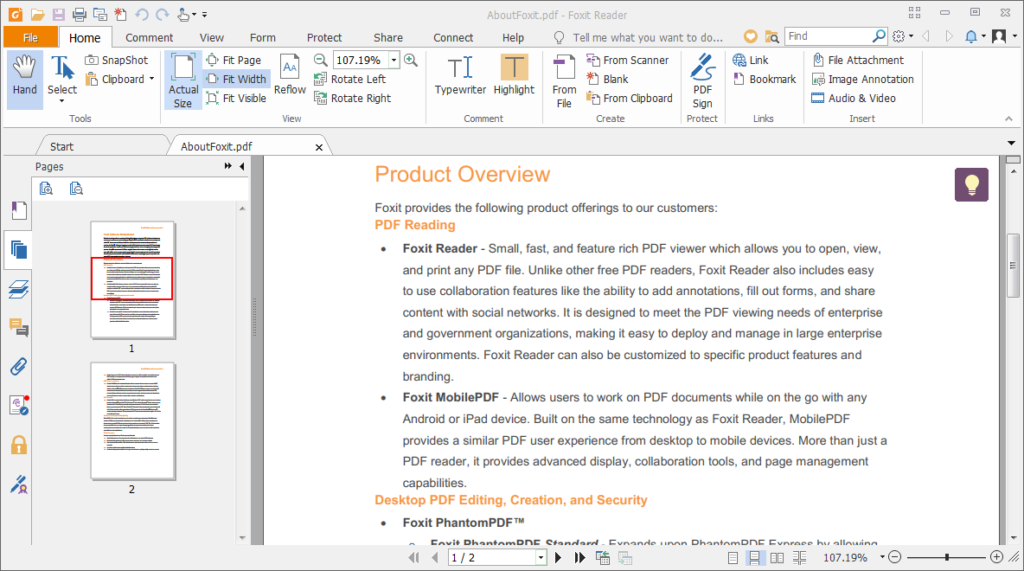 Foxit Reader is a free and modern PDF reader, regularly updated by its development studio Foxit Software.
This software offers a top ribbon similar to that found in the Microsoft Office suite. Foxit Reader provides access to practical features for adding comments, annotating or highlighting parts of the document. It is perfectly compatible with form-type documents, which can be completed directly in the Foxit Reader interface. It supports adding plugins to easily connect to major cloud services and facilitate document sharing and collaboration with other people.
Pros:
Good integration with other office software such as Microsoft OneNote
Relatively light and fast
Includes a PDF printer that can convert any document into this format
Cons:
No editing functionality, apart from filling out forms
The ribbon can appear confusing and complex to new users
Does not support advanced PDF features containing 3D CAD models
Few formats supported apart from PDF
3. Sumatra PDF – The Fastest Open Source PDF Reader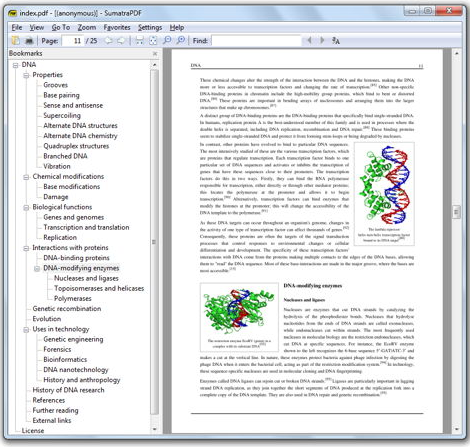 Sumatra PDF gives pride of place to lightness and speed. It thus offers a particularly stripped down and basic interface. It allows you to consult PDF documents, but also electronic books in ePub and Mobi format as well as CBZ and CBR comics. Keyboard shortcuts are supported for easier navigation and search.
Sumatra PDF is intended for all users who only need to view PDF documents, without advanced features. This software is perfectly trustworthy, since it is open source and is part of the programs recommended by many Government States as part of the overall modernization of information systems. It also has the support of the Free Software Foundation.
Pros:
The program is extremely fast and light, usable on all configurations
The software is fully open source and recommended by the French State and the Free Software Foundation Europe
It offers handy keyboard shortcuts for navigating eBooks

Cons:
The interface is particularly rustic
Font display is less smooth than in competing programs
Sumatra PDF is based on simplicity, it does not offer any functionality other than reading documents
4. STDU Viewer – The multi-format office viewer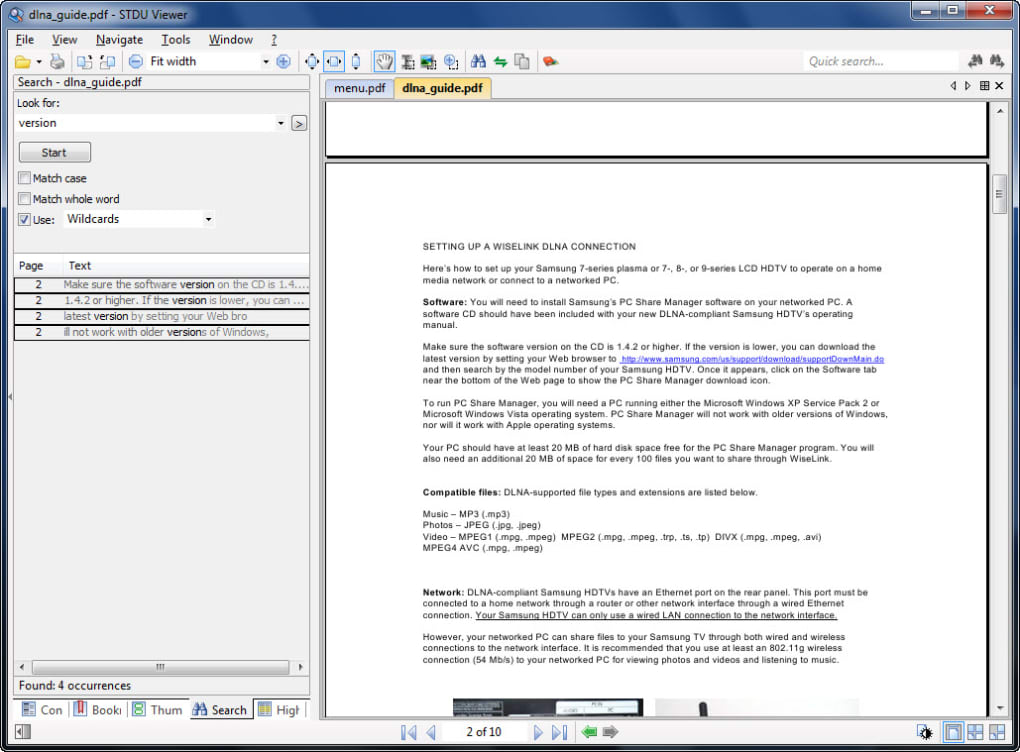 STDU Viewer cannot be thought of as just a PDF viewer, it is capable of much more than that. It reads a large number of documents (CBR, CBZ and FB2 eBooks, BMP, GIF, JPEG, TIFF, PNG and PSD images, as well as XPS and TXT texts). It uses tabbed document viewing and includes a file explorer. Keyboard shortcuts make it easier to navigate digital books and large PDF files.
STDU Viewer is particularly light, so it offers good performance without significantly impacting the use of system resources.
See also: 6 Best free photo editing apps of 2020