It is sometimes difficult when you have spent years on Windows to switch to Linux, even when you deeply believe in the values of free software. You need a Linux that looks like Windows so that you don't get lost and make your transition easier. But luckily there is a project called WindowsFX 10 or LinuxFX that looks EXACTLY like Windows. It is simply a version of Ubuntu 20.04 with the Cinnamon desktop environment that copies Windows 10 for every feature. I know, you don't believe me, and you are thinking, another rotten customized Ubuntu theme.
WindowsFX 10 Looks EXACTLY Like Windows 10
WindowsFx 10 is a Linux that looks like Windows (I mean 100% like Windows).The perfect distro for users looking to switch to Linux but keeping the Windows UI. There are many Linux distros that propose interfaces more or less resembling Windows. But this is a whole new level. The interface looks exactly like Windows 10, starting with the start menu and the different system settings menu
Just take a look at the screenshots below, because it is truly amazing. WindowsFX 10 also comes with OnlyOffice, a free powerful alternative to Microsoft Office (Which is compatible with MS Office documents). It is also able to play all media files without installing anything extra, and even knows how to run .exe / .msi using Wine.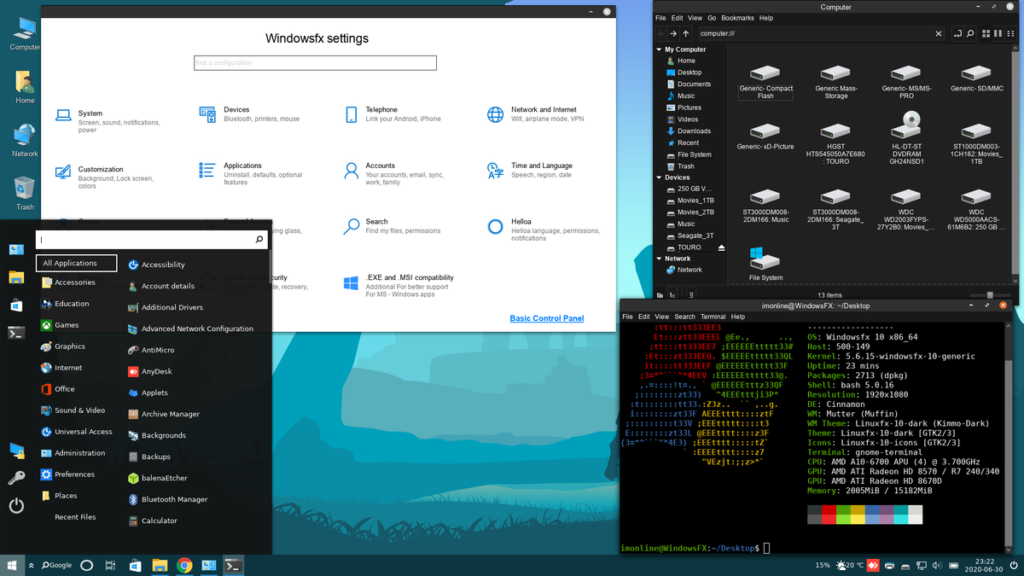 WindowsFX 10 Is About Entertainment And User-friendliness
Entertainment is another objective of WindowsFx 10. For this reason, we will also find popular programs installed by default, such as VLC multimedia player, Kodi multimedia center, GIMP image editing software, and even Steam.
Starting from February 2021, WindowsFX 10 comes with Microsoft Edge web browser and OneDrive, juste like Windows 10.
We will also be able to customize the desktop to our liking, as dictated by the Linux philosophy. This distribution comes with a wide variety of wallpapers (very nice, by the way). It allows you to customize your desktop by adding all kind of widgets and widgets as you wish so that you are as comfortable as possible with your computer
WindowsFX 10 Is Not Just An Ubuntu Theme
This Linux distribution is not just about changing the background and adding a few icons to "look" like Windows 10. Its developers have worked very hard to make a Linux that really looks like Windows 10 everywhere we look. The theme windows are very similar to the Microsoft operating system, in addition to being able to find almost all Windows icons, including the icons in personal folders.
The icons on the taskbar and all the elements it contains were also designed with Windows 10 in mind. We can see the network settings, volume control and even the calendar as in the Microsoft operating system.
WindowsFX 10 support Microsoft Active Directory and Worgroups networks which allows you to have the same features and options as in Windows 10's configuration panel.
Other WindowsFX features include:
Microsoft PowerShell as the default terminal.

Microsoft Teams, Skype, Google Drive, etc
Ready for Google Drive and OneDrive cloud and more.
Improved support for Microsoft © Windows® applications.
Support for games developed for Windows
Remote Desktop
etc
WindowsFX 10 Comes With Its Own Personal Assistant
WindowsFX 10 creators developed their own personal productivity assistant for the distro as an alternative for Cortana in Windows 10. Helloa Assistant allows you to execute many commands just by the power of your voice. Still under development, Helloa assistant allows you to open programs, search files and turn off your computer using your voice. You can make suggestions for new commands by directly contacting the WindowsFx 10 developers via Telegram @linuxfxen.
WxDesktop Components Are The Core Of WindowsFX 10
The developers of WindowsFX 10 have created components called WxDesktop components that copies the control panel, system, network interfaces of Windows 10.
These fully functional components are not simple customizations of Ubuntu but rather Widgets programmed to offer the same experience as on Windows 10 (UI, transition, functionalities etc.)
Use virtual desktops just like Windows.
WindowsFX 10 also has virtual desktops and all the other features we can find in Windows 10. This helps you be more productive with the operating system.
It's really clean. If you want to test this distro, you will find an ISO for your PC here or an ARM image for your Raspberry Pi here.
You can just install WindowsFX 10 on a Raspberry Pi, hung behind a screen, with a small keyboard/mouse for your family members and they wil not even notice the difference.
Download WindowsFX 10
WindowsFX 10 is completely free and can be downloaded from the following link. Its developers offer us two different types of downloads. On the one hand, we will have direct download, which is done via SourceForge servers, and on the other hand, we will have a torrent download. We recommend the second one, as it tends to be faster.
The result is that we will download a 3.4 GB ISO image. This image can be used without any problem to boot a virtual machine, or we can save it to a USB memory to boot any computer from it and install the system on it.
Minimum requirements
To use WindowsFX 10, you don't need very advanced hardware. All you need is a dual-core processor and 2 GB of RAM to use it without any problem. Although these minimum requirements may be slightly higher than those of Windows, the performance we get in equal conditions is extremely superior.
So if you dont hate Microsoft and want a linux that looks like windows download WindowsFX 10 now !