Facebook offers both a mobile version and a desktop website. The mobile app is designed for phones and small tablets, while the desktop website is designed for larger tablets and computers.
To access the Facebook desktop website on a tablet or Android phone, visit the Facebook website in a web browser on Android and tap on the three dots icon in the top-right corner of the screen. There you will see an option that says "Desktop Site". Clicking on that option will reload the page and display Facebook in desktop mode.
When you open Facebook with the mobile web browser, Facebook will automatically redirect you to the mobile version of the website. Few people can access high-speed Internet, and for this reason, Facebook has created a mobile-optimized website. This mobile version consumes far less data than the desktop site. Also, the desktop site is designed for a larger screen. You will have to use the device in landscape mode to have a manageable experience. But, it will be a bit inconvenient. However, if you still want to access the desktop version of Facebook or any other site from your phone or tablet, you can do so following this tutorial.
Access Desktop Version Of Facebook on Android
If you want to access the Facebook desktop version on your Android device, there's an easy way to do it. Just follow these simple steps:
1. Open Chrome Browser on your phone or tablet.
2. Tap on the 3 dots icon to open Chrome options menu.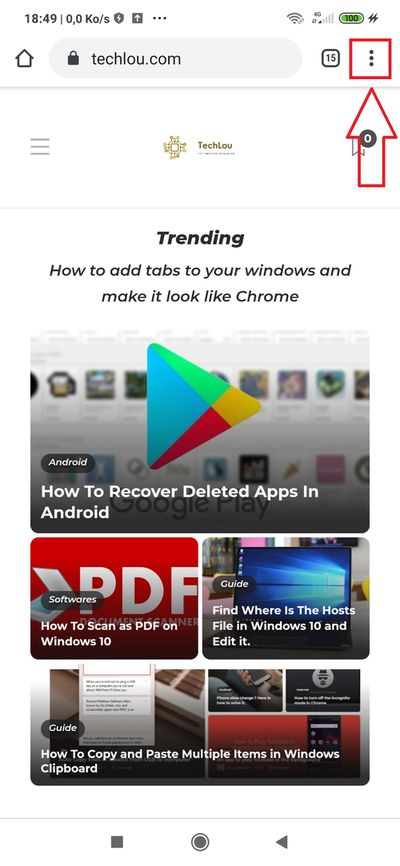 3. Tap on "Desktop site"
Tap on the little box in front of "Desktop site" to activate navigation in desktop version of websites like Facebook.
4. Visit Facebook in desktop mode
Open facebook.com on your browser, you will see that the desktop version of Facebook will be shown instead of the mobile on.
Tip: Make sure to type "facebook.com" on the address bar and not "m.facebook.com"
Keep in mind that some features may not be available on the desktop version, so you may have to switch back and forth between the two versions depending on what you're trying to do.
Advantages of Accessing Facebook in Desktop Mode
There are many advantages to accessing Facebook in desktop mode. For one, the desktop site is more user-friendly and provides a better overall experience than the mobile app. Additionally, the desktop site offers more features and options than the app, such as the ability to view your profile as others see it, post updates and photos, join groups, and much more.

The Facebook app also has some disadvantages compared to the desktop site. For example, it can be slow and glitchy, particularly when browsing on a mobile device with a slower internet connection. The app can also be battery-intensive and take up a lot of storage space on your phone.
There are some other reasons why you might want to access Facebook on the desktop version, among them we could cite:
1- To have access to all the options and settings available on the desktop version of Facebook that are inaccessible on the mobile version.
2- To have access to all the features offered by Facebook on the desktop version and which are not available on the mobile version.
3- Have the same familiar Facebook look and feel on mobile and PC.
You can use the same technique below to Keep Youtube Playing in the Background