In this article, we will go over some of the key features of PDF files and how to edit them. PDF is a type of file that is created by Adobe Acrobat or any other PDF-producing software. PDFs are very common across the world as they can be created easily, shared on many devices, and can be printed on various printers. A PDF file has a format that is meant to look professional instead of a document saved as a Word file.
There are many reasons for editing PDF files. It could be because you want to make it larger or smaller, like for viewing on a mobile device or removing sensitive information. There are many ways to edit PDFs including adding text, drawings, or other pages; removing pages; changing the size, margins, orientation, and more. Whatever your needs may be there is always a way to edit a PDF file!
PDF files on the internet are not directly editable. If you want to change or modify a PDF file, then you will need to use a PDF editor software where you can open up any PDF file on your computer and edit it.
1.PDFelement Editor (Editor's choice)
PDFelement Editor is a software that allows you to edit PDF files. The program features a variety of tools and options to perform edits such as adding text, watermarks, images, as well as splitting and combining pages. In the editing process, if the user changes his or her mind, they can undo any change or even undo all changes at once. You can also create a copy of the document if you want to work on two versions at once.
PDFelement Editor can convert PDF files into fillable forms. The editor has the ability to add text fields, date fields, checkboxes, radio buttons and signature fields. This feature is especially useful for organizations that need to collect data electronically without having to create multiple paper forms.
The PDFelement Pro Bundle allows you to edit PDF files and fill out PDF forms on iPhone and iPad, which is handy for most users.
PDFelement Editor Pros & Cons
PROS
Edit text and images on PDF files
Convert PDF files into forms
Turn scanned papers into editables PDF files
Compress large PDF files
Available on iOS
CONS
The yearly plan is a little bit expensive
2.EaseUS PDF Editor
A common problem with PDFs is that they are not editable. However, if you have EaseUS PDF Editor, you can edit the PDF document to fix any mistakes. You can also convert the PDF documents to other formats like Word, Excel, text, and more. Not only does it allow you to edit the document but it also automatically OCRs the words in order for them to be searchable.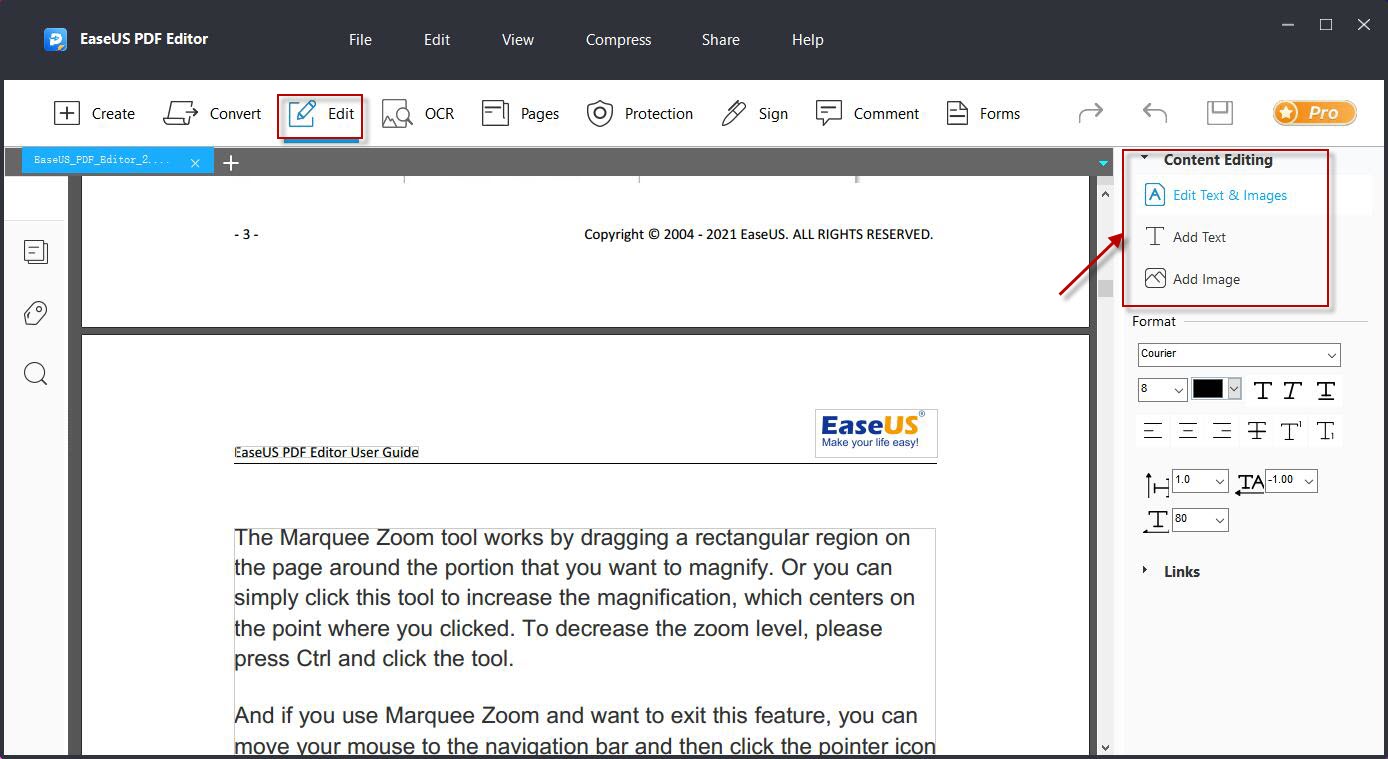 If you want to edit the content of your PDF document, with all the advanced features that a premium tool offers, then EaseUS PDF Editor is a great solution. Document editing features include font change, font size change, font color change, margins, and spacing modification, insertion of watermarks and signatures, text box creation and text box filling to fit entire words or lines of text.
EaseUS offers a PDF editor that not only allows you to edit PDF documents, but to convert them into Word, Excel, or other formats. You can also use this app to merge multiple PDF files together, create PDFs from Microsoft Office files, OCR, remove passwords and so much more.
EaseUS PDF Editor Pros & Cons
PROS
Very powerful PDF editing tools
Accurate OCR tool
PDF compressing after edition
Free trial
CONS
The UI can be overwerming for new users
3.PDF Extra
PDF Extra is one of the best solutions we have tested for editing PDF. PDF Extra allows you to easily edit your important PDFs through a modern and simple interface.


PDF Extra allows you to edit the text of your PDFs, add images, add or extract pages, apply rotations to any PDF object, change fonts, adjust the space between letters and lines, and much more.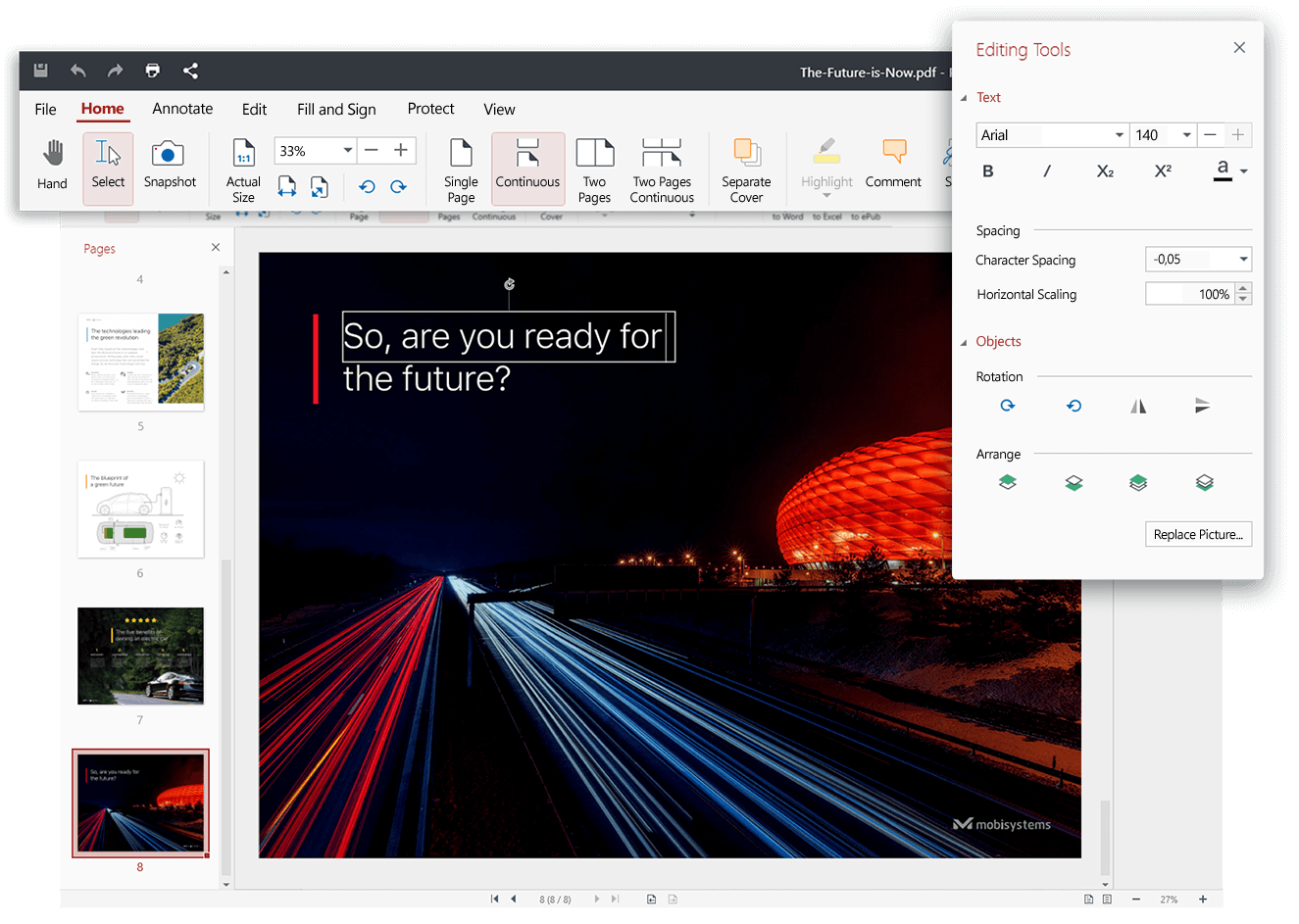 PDF Extra also allows you to convert your PDF file to Word, Excel, or Epub so that you can read it on an e-reader.
PDF Extra Pros & Cons
PROS
Modern interface
Powerfull text and objects styling tools
Extract & insert pages in PDF files
Encrypted password to protect PDF files
Available on Android & iOS
CONS
No OCR functionality
No option to convert PDFs to forms
4. Corel PDF Fusion
Corel PDF Fusion is a solution that has been around for more than 10 years for editing PDF files, it has all the basic functions to add, edit or delete text or images, rearrange pages in your PDF file, combine multiple files into one, and many other functions.
The advantage of Corel PDF Fusion is that it allows you to open more than 100 different file types, edit them and assemble them into a single PDF file
Available for a single price of $54.99, it is one of the cheapest solutions to allow you to edit your PDFs, but it is also one of the oldest and least updated, so the general interface of the application clearly shows that the application is a few years old. However, all the basic editing functions are there and they work well.
PDF Extra Pros & Cons
PROS
Opens more than 100 file formats
Creates PDF files from any application
Fusions differents type file in a single PDF file
All basic PDF editing tools
CONS
Outdated UI
Fewer updates than concurents
5. Desygner Online PDF Editor
Desygner is an online tool that allows you to create professional looking PDF documents and also edit existing PDF files, it's also a great tool for social media posts, banner ads, presentations, business cards, and flyers. With Desygner, you can easily create professional looking PDF documents that look great on all devices.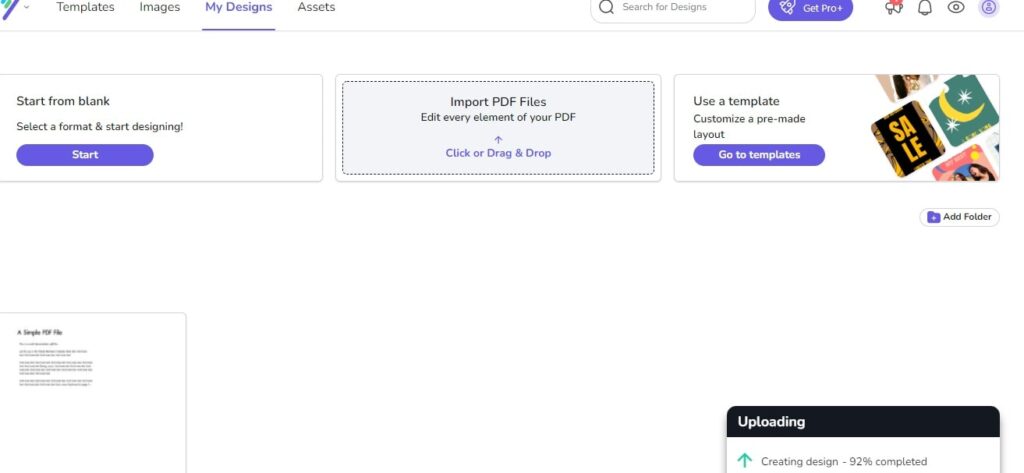 Desygner makes PDF editing and designing easy and fun. Just select from one of the many templates or start from scratch, add your text and images, and you're good to go. Plus, there are millions of royalty-free images and fonts to choose from so you can create professional-looking designs without breaking the bank.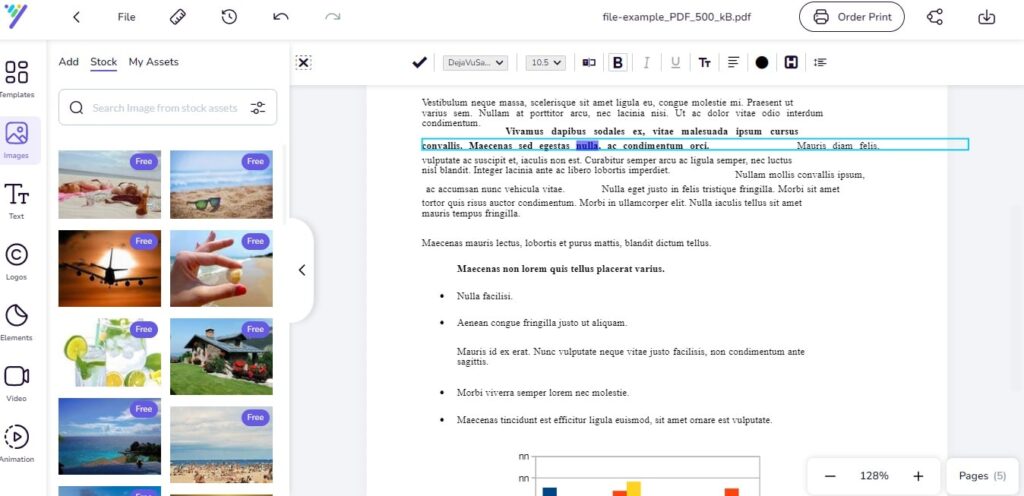 Desygner PDF Editor Pros & Cons
PROS
Complete PDF Editor tools
Free version available
Automatically detects missing fonts & suggest to replace them
CONS
The free version is very limited
Limited to 10 editable PDF files for the free version
6. Sejda, an online PDF editor
Sejda is a PDF editing tool that can be used online or as a desktop application. It includes features for editing, compressing, merging, and much more. This tool lets you edit any text in your PDF, as well as remove any unwanted objects from the document before downloading it as a PDF file.
Sejda is free to use but limits the number of pages that can be edited which can be very frustrating when you have a large file to edit. The number of files you can edit per day is also limited.
Sedja PDF Editor Pros & Cons
PROS
Intuitive tools to edit PDF file
Free version available
Easy-to use interface
CONS
The free version is very limited
Conclusion
In conclusion, there are many different PDF editing tools available today. The best thing to do is try out a few of the options and see which one best fits your needs.
We hope that this article has been helpful in teaching you about all the different ways to edit a PDF file. As always, if you have any questions or comments please feel free to contact us and we will get back to you shortly!
See also: